COPPER MAGNETIC BIO BRACELETS / TITANIUM GERMANIUM BRACELETS - PLEASE SCROLL AND READ
Copper has been used for healing by mankind since early times. It is an essential metal our body needs, but is often not absorbed. It is believed that copper has an anti-inflammatory effect.

The Copper will leave a green/black residue on the skin. This is good and indicates that the copper is being absorbed successfully. It can be easily washed off with soapy water. We recommend cleaning your bracelet regularly with any metal jewellery polish and a cloth.

Magnets have also been used in Chinese medicine from around 2000 BC in-conjunction with reflexology and acupuncture. It is still used today as a first line treatment for many common complaints.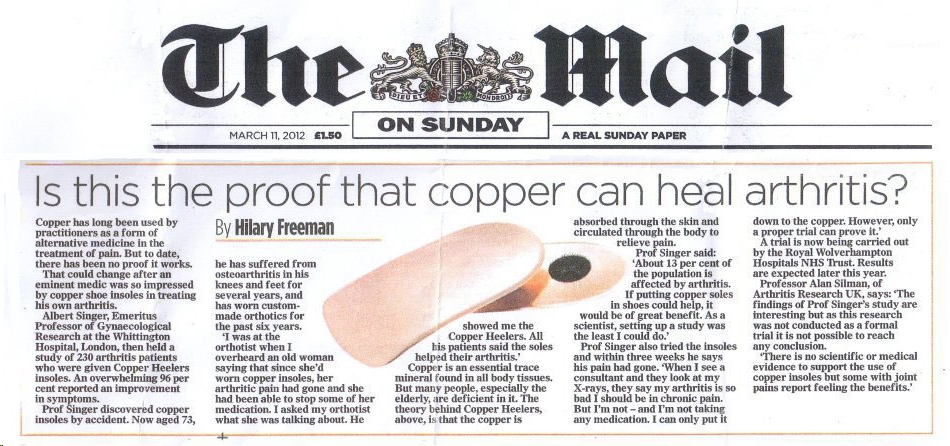 MAGNETIC THERAPY HELP WITH:
Arthritis pain, Sprains, Strains, Back Problems, Sports injuries
Muscular pain, Joint Inflammation, And Many More...
MAGNETIC BRACELETS DO WORK, SAY RESEARCHERS
Researchers said today that magnetic bracelets, worn by many for their supposed health benefits, do reduce the pain of osteoarthritis.
The study focused on 194 patients, aged 45 to 80, who had osteoarthritis of the hip or knee.
The group were either given a standard strength magnetic bracelet, a weak magnetic bracelet or a non-magnetic, dummy bracelet.
The researchers, from the Peninsula Medical School in Plymouth, found pain was significantly reduced in the patients wearing the standard magnetic bracelet compared to the dummy one.
There was little difference between the weak magnet group and those wearing the dummy magnets after 12 weeks of the study.
The researchers, writing in the British Medical Journal, said: "Pain from osteoarthritis of the hip and knee decreases when wearing magnetic bracelets."
But they added: "We cannot be certain whether our data show a specific effect of magnets, a placebo effect or both."
Around 760,000 people in the UK suffer from osteoarthritis, with three million visits to GPs concerning the condition in 2000.